2br Condo for rent in Tucson AZ 5855 N Kolb Road in Tucson, Arizona For Sale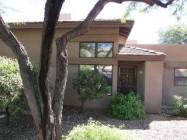 Price: $1,600
Type: Vacation, For Sale - Private.

$1,600/week, 2 bed Condo for rent in Tucson AZ
» Contact me (please complete the contact form)
» View more images and details
Maximum Guests: 4
Minimum Stay Period: 5 (days)
Casita-Single Story-Wood Floors-Extended Patio AND Mountain Views! 2 Bedroom 2 Bath Private Casita like no others. Casita living on corner with private extended patio and Stunning Mountain Views! Tastefully decorated and only lived in by the Owner. Celings are vaulted,kitchen is upgraded with black appliances and well equipped for all of your cooking need. NEW wood floors just installed throughout condo! The master bedroom has a King size bed with twins (conversion to a King available). Parking directly in front of condo and third pool can be seen from front door. Enjoy the privacy of this condo with this single level casita on the extended wrap around patio enjoying all of the Tucson Wildlife as you gaze as the Beautiful Additional amenities include: toilet, walking, living room, close to town, cookware, hiking, movie theatres, queen, nearby post office, bicycles, groceries, minutes from uofa, mountain biking, close to raytheon/davis monthan, mountain climbing, cycling, walking trails, 24 hour fitness center, hospital, golf privileges optional, non smoking only, atm/bank, cinemas, churches, accessible condo - no stairs, washer & dryer, ironing board, sight seeing, scenic drives, ice maker, in foothills of ventana canyon, nearby bank, nearby fedex, heating, dishes & utensils, nearby internet cafe, greens at ventana canyon, medical services, iron & board, tub, swimming, coffee maker, king, fitness room / equipment, long-term renters welcome, golf, no phone, nearby atm, nearby medical services, twin/ single, shower, sabino canyon-minutes away, horseback riding, combination tub/shower, starbucks walking distance, bird watching, laundromat, golf course, nearby grocery, assigned covered parking, restaurants.

Price: $400


Price: $763

Price: $560


Price: $350


Price: $1,095


Price: $1,600