2br House for rent in Tucson 6728 N Abington Rd in Tucson, Arizona For Sale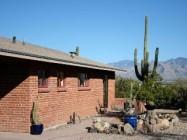 Price: $800
Type: Vacation, For Sale - Private.

$800/week, 2 bed House for rent in Tucson
» Contact me (please complete the contact form)
» View more images and details
Maximum Guests: 4
Minimum Stay Period: 30 (days)
So Close, Yet So Far Away! Tio Edwardo's So Close Yet So Far Away! Private home nestled in the foothills of the Tucson Mountains. Charming Ranch House in the midst of Sonoran Desert vegetation and mountain views yet only minutes from I-10, Saguaro National Park West, Golfing, Shopping and other service venues. Our Great Uncle Ed purchased the property in the xxxx's, built the home and lovingly maintained and manicured the surrounding desert. His refuge looks very much the same now as it did then. We have his same passion for the natural beauty of the property and have worked to preserve it in his honor to share with you. The Casita was recently renovated: bath, fixtures, paint, tile and updated with central air/heat. A perfect blend of Retro Ranch Style and Classic Mexican Craft work. The décor and location will instantly help you feel the enduring warmth of the Old Pueblo and the draw of contemporary Tucson. The perfect haven after a day on the trail exploring all Southern Arizona has to offer. The proprietors/owners are happy to answer any questions and provide information about the area that we have collected from life times of experience. We want you to have the most completely enjoyable stay possible. Our house is your house! Salud!

Price: $400


Price: $763

Price: $560


Price: $350


Price: $1,095


Price: $1,600