2br House for rent in Tucson AZ in Tucson, Arizona For Sale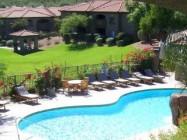 Price: $763
Type: Vacation, For Sale - Private.

$763/week, 2 bed House for rent in Tucson AZ
» Contact me (please complete the contact form)
» View more images and details
Maximum Guests: 4
Minimum Stay Period: 30 (days)
Veranda 38-201 This beautiful community is nestled in the Santa Catalina Mountain foothills of Tucson and this particular location is a winter visitor''s paradise, featuring world-class hiking, championship golf, restaurants and shopping, all within a 1/4 mile or less. From the balcony at night, you will enjoy seeing the city lights of Tucson and during the day - the mountains to the southeast. This property is located in the Ventana Canyon neighborhood association & is a gated community. This is a fully furnished two-bedroom two-bathroom 1000 sq.ft. upstairs condo. Both bedrooms feature large walk-in closets for all of your clothing etc. You will enjoy two beautiful pools and spas which are about 150 steps from your door. Each pool area has restroom facilities for your convenience and a complete state of the art fitness center near the main pool and clubhouse. From your balcony, you will have a full view of the pool and its cascading waterfalls without the pool noise. To add to your enjoyment, there are two common bar-b-que locations to choose from, both of which are easily accessible. For added enjoyment we offer a home theater system with DVD/CD player,CDs & DVD''s included. The master bedroom also has a TV with a DVD player. Phone our office for availability and reservations. Additional amenities include: wireless internet and cable, queen bed in second bedroom, queen bed in master bedroom, home theatre system in living room, pet friendly. phone our office for pet approval. the non refundable pet fee will apply and is non refundable., gated community, iron and ironing board, full linens & towels, large balcony with outdoor seating, phone our office for reservations, 2 bedrooms & 2 baths.

Price: $400

Price: $560


Price: $350


Price: $1,095


Price: $1,600